#1 Qualifier in the 2014 KRE Quick 16!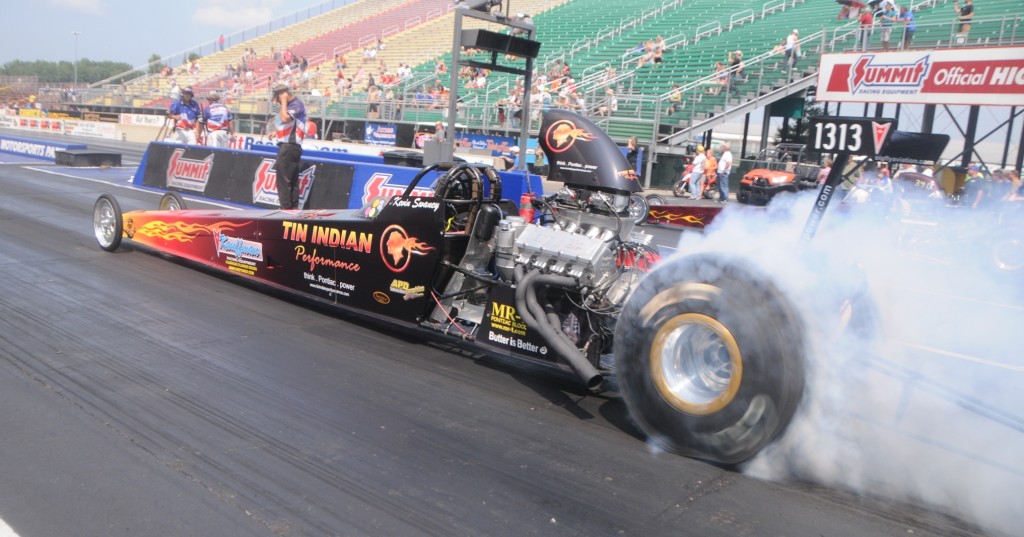 Our 2014 Norwalk experience started on Wednesday with Tent setup at the track.  We started to move in at noon on Thursday.  The Thursday move in for the 2014 event seemed to go very well with Linder's lot being completely emptied.    This certainly alleviates a lot of the issues associated with Linder's lot and getting into the track quickly on Friday so the racing starts early in the day for everyone instead of worrying about getting set up.
On Friday, we were very busy socializing with customers as well as helping crew on both Jeff Kauffman's KRE Digger and Bill Mellott's 1965 Pro Mod GTO.  Jeff Kauffman laid down some very impressive ETs and speeds over the course of the weekend.  Best ET was 6.159 and best MPH was 241.32
Jeff Kauffman's 6.15 pass @ 239 mph
Video courtesy of fastest . Pontiacs . ever
Bill Mellott qualified # 2 in the Butler Performance Frantic 4 with a 7.07 ET @ 211 mph.  That was Bill's best MPH to date with his current combo.  On the final qualifier for the Frantic 4, Bill's 1965 Pro Mod went up into violent tire shake which resulted in some damage to the car's third member.
Bill Mellott's 7.07 pass @ 211 mph
Video courtesy of fastest . Pontiacs . ever
Saturday we had quite a bit a rain ALL DAY.  It did not clear up until about 4 pm.   We made our first Kauffman Racing Equipment Quick 16 qualifier at 7:29 pm Saturday night.  We ran a 8.18 at 187 mph   We were NOT happy!  After staging the car and hitting the trans break, the car continued to creep forward.  It had to be footbraked on that pass…. it turns out we had a shifter cable break and despite the shifter being in low gear, the transmission was in high gear which resulted in the cars poor performance.  Not to worry though, crew member Craig Dienes came up with a great plan to fix the part and get us ready for the last and final qualifier Sunday morning.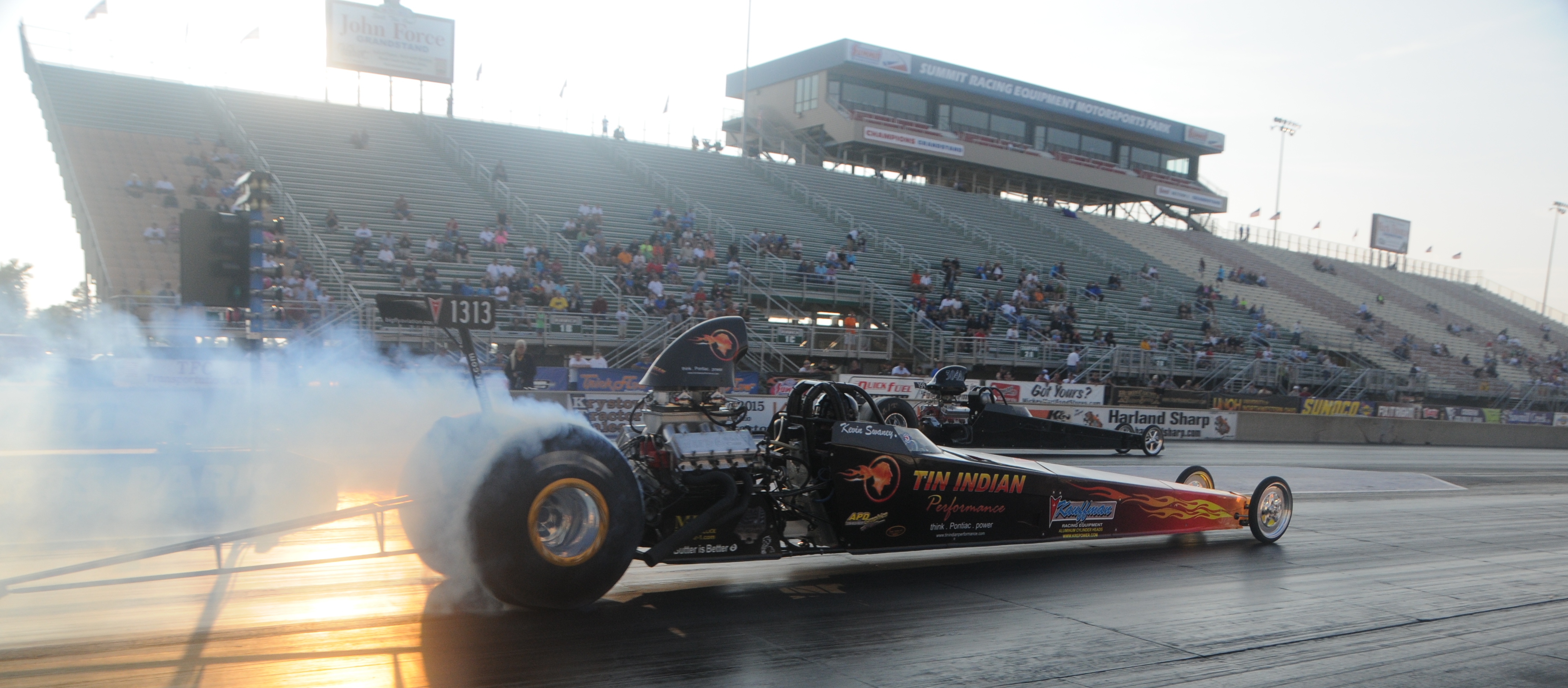 Sunday was beautiful.  The Q2 pass was made at approximately 10:25 a.m.  and as you can see by the HUGE wheel stand, the TIP digger is hooking pretty good!   The car was going to carry the wheels past the 60′ marker and it was subsequently pedaled to bring it back down on solid ground!!  Those new MT Slicks appear to be working OK…..
We ended up taking the #1 qualifying position with a 7.143 @ 190.30 mph.  We ended up running a best of 7.059 @ 190 mph which was in the first round of eliminations.    We made it to the 2nd round when we got bumped out.  We ran a 7.06 at 190 mph on that pass.

KRE Quick 16 Q2 pass by the TIP Digger – 7.143 ET @ 190 mph
We were very happy with the way the new Mickey Thompson tire / rim combo worked.  We were slightly disappointed to not log a 6 second pass over the course of the weekend but in light of number of changes we made to the car since last year, we were pretty happy with its performance.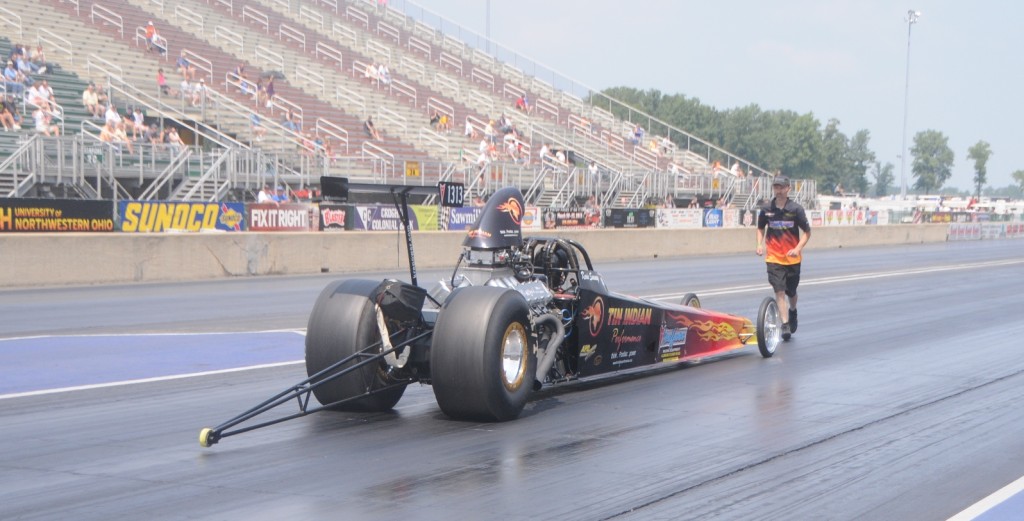 Tin Indian Performance Best of Show Award
This years TIP BEST OF SHOW car show award was presented to Kevin Haines from Brecksville, Ohio.  This was the 3rd year we have presented this award at Norwalk and each year it seems to get harder and harder to pick the winner.  Kevin's AWSOME 1965 2+2 caught team member Craig Dienes' eye (he has a keen eye for sharp cars)!  One of the best things about Kevin's 2+2 is that he drive it EVERYWHERE!  Congratulations to Kevin and his amazing 2+2!
We would also like to congratulate  Todd Gabbaro from Dublin Ohio for winning the Tin Indian Performance Street class on Saturday and Tracy Sanson from Van Buren, Oh  for the Runner-Up.  Sunday's winner was  Joe Childs from Bellville, Ohio with the Runner-Up being Rob Belch from Allenton, Michigan.  Nice job guys!    

Thanks to all of our customers and friends for stopping by over the course of the weekend.  It was great to see everyone and catch up.    Special thanks to my crew – Craig Dienes, Kevin M. Swaney and my family for all of their help during the event.  We had a lot of help from Jeff and Mark Kauffman (KRE) over the course of the weekend too.  A lot of work goes into preparing for the event as well as racing in it.  I could not do it without everyone's help.