Many people seem to be under the impression that there is a lot of work to be done to a stock block when installing a stroker kit. The most frequent question we get asked is "What areas on a stock Pontiac need to be clearanced when installing a 4.25″ or 4.5″ stroke crank?"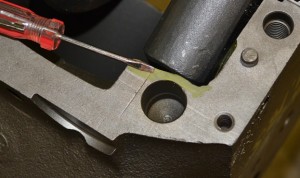 The picture above shows you the primary area you will need to work on in order to make your 4.25″ or 4.50″ stroker crankshaft work in your stock block.  As you can see the area painted yellow with the screw driver pointing towards it is VERY close to the front crankshaft counter weight.  You will need a die grinder, some goggles, and about 10 minutes of time to grind this area back back.  We typically grind this area back so that we have at least a .080 " gap between the block and the front crankshaft counter weight. 
After you are done grinding your block should look similar to the picture we have below.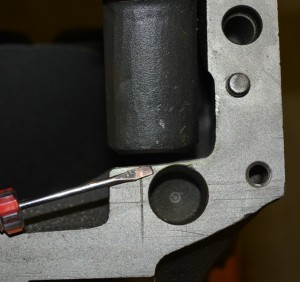 Please remember that ANY new part to be installed in your engine should be installed and ALL clearances checked prior to final assembly due to factory production variances!